"DROP" mixologists do not simply make a drink; they craft a drink, using the finest house-aged spirits from our in-house barrel-aging program. Aged in charred American oak wood barrels, Bank & Bourbon offers guests — from the bourbon enthusiast to the novice — the opportunity to experience bourbon throughout the aging process. Guests have the option of barrel-aging their own bourbon through our exclusive private barrel-aging locker membership program.
Bourbon offers a diverse collection of inherently American bourbon and whiskey, showcasing its uniqueness based on how it is aged, where it is made, what it is made from, as well as how it is barreled. The charred oak wood barrels mellow the bourbon and smooth out the taste. In addition to aging the bourbon in the barrels, the taste can be changed by introducing other flavors to the product by soaking or curing the barrel with a different spirit, such as aged rum, port or chardonnay. As the barrels are refilled for aging new product, the flavors from previous batches will enhance and change the taste and flavor of the bourbon.
Bringing you with the heaven of both world, Drop is a place you must visit if you are a big fans of Persian and Indian food. Drop Exchange is located in Solaris Mont Kiara is indeed a unique place to dine. Being the first Wall – Street themed bar and restaurant in Kuala Lumpur .
GOOD FOOD | GOOD MOOD
DROP is a concept that is unique to the indian culture remake. Providing the quintessential cultural food of Bombay, we serve food gems that sparkle on its streets and old-world clubs, home of some of the finest chef's with deep-rooted culture. With a fun-loving atmosphere and relaxed mood, our food is simple wit hhints of forgotten indian taste buds.
In addition to what is arguably the most expansive list of whisky and gin in town, we also offer a variety of wines and beer selected for the transient guest and traveller.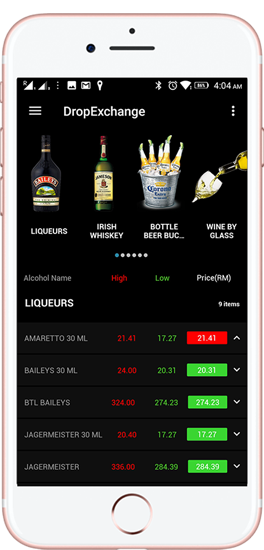 <br>
 <br>
 <br>
Drop Drinks
Named after the fluctuation of the stock market, the "Drop" in drink prices also refers to a "Drop" of whiskey. and was our inspiration for the gastrolounge; a veritable haven of elegance and design, serving up fresh cocktails concocted by our seasoned bartender.
Malaysia has a thriving coffee shop culture with many of the cafés in Kuala Lumpur bursting at their seams at all times of the day. Depending on interests, visitors have the choice between several spots for coffee or tea with various atmospheres and vibes to suit all interests. At Drop we din't missed it.
Mail
info@dropexchange.com.my
Address
K-G-3, SOLARIS MONT KIARA NO 2, Jalan Solaris, Solaris Mont Kiara, 50480 Kuala Lumpur, Malaysia